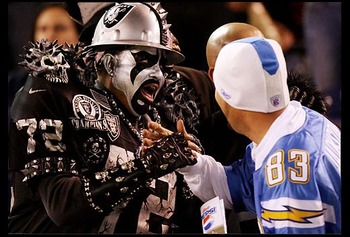 With the NFL reaching week ten in the regular season we see the return of Thursday night football broadcast on the NFL Network. This week we are treated to an AFC West showdown with the Oakland Raiders visiting the San Diego Chargers.
I imagine when the decision was made for these teams to be the involved in the first TNF game, the selection committee didn't imagine the Chargers and Raiders would both be 4-4 and tied for the division lead.
For some reason it seems that each year either the AFC or NFC West will be the worst division in the NFL, this year it's the AFC West's teams turn to have a poor record yet still make the playoffs, fortunately I don't see the winner of this division following in the Seahawks performance last year of making the playoffs despite having a losing record.