The defensive players are hard to judge. Apart from Aldon Smith and JJ Watt (and to a slight degree, Marcel Dareus) a majority of the contenders play on poor defences, so more statistical analysis is required. 
The pack is much more closely bunched together and we could see any of the names mentioned in the article kicking on towards the end of the season and making a claim for the award. So, without further ado…
Marcel Dareus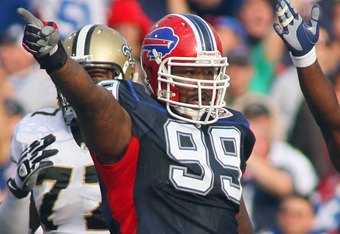 The Defensive Tackle may not have the dazzling stats of other candidates, but his impact on the Bills defence is clear. The Alabama alumn gobbles up double teams and still manages to make an impact on the stat line similar to all pro defensive tackle Vince Wilfork.
Since moving to Nose in the Bills 3-4 (he was originally playing as end) he has had 2 and a half sacks and 25 tackles so far and if he continues to perform at that level he will get close to the numbers certain Mr Suh put up last year (ok, maybe not as many sacks...)