The defensive players are hard to judge. Apart from Aldon Smith and JJ Watt (and to a slight degree, Marcel Dareus) a majority of the contenders play on poor defences, so more statistical analysis is required.
The pack is much more closely bunched together and we could see any of the names mentioned in the article kicking on towards the end of the season and making a claim for the award. So, without further ado…
Marcel Dareus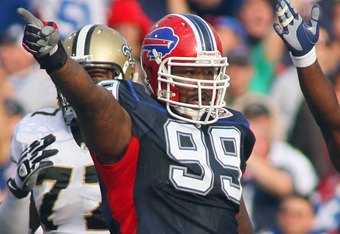 The Defensive Tackle may not have the dazzling stats of other candidates, but his impact on the Bills defence is clear. The Alabama alumn gobbles up double teams and still manages to make an impact on the stat line similar to all pro defensive tackle Vince Wilfork.
Since moving to Nose in the Bills 3-4 (he was originally playing as end) he has had 2 and a half sacks and 25 tackles so far and if he continues to perform at that level he will get close to the numbers certain Mr Suh put up last year (ok, maybe not as many sacks...)
Aldon Smith
When it comes to the defensive rookie of the year the sexiest stat of them all is sacks and Aldon Smith has a lot of sacks. He leads the rookie defensive class with 6.5 (tied with Von Miller) this season and has been a large part of a dominant defence that has the 49ers sitting atop the NFC with Green Bay.
There were some doubts from 49ers fans when he was drafted as they wanted a quarterback to replace Alex Smith. There was also a worry that Smith wouldn't be able to transition from Defensive End in college to OLB in the 3-4 defence the 49ers run. Safe to say those worries have been quashed now!
Von Miller
As with Aldon Smith, Miller has 6 sacks this year and has worked well as a pass rusher for a largely limited defence in Denver. The number 2 pick has also racked up 31 tackles this season and has met expectations as an impact player for the Broncos.
It will be interesting to see how Miller develops throughout his career as he has flashed moments of inspiration, but also moments where he seems to disappear.
Nearly Men
JJ Watt – Former Wisconsin DT has made a big impact for the Texans and is a nightmare to block for offensive linemen. Always gives his all every play and is helping the Texans defence re find itself.
Patrick Peterson – Punt returning extraordinaire I still think he would be better off playing at safety because of his size. Has played well for the Cardinals on a poor defence, but lacks the big impact in the stat line players above him have had.
Ryan Kerrigan – Another high motor player who has made the change from defensive end to outside linebacker, Kerrigan is having a solid season for the Redskins. Has an interception taken to the house as well as two forced fumbles.
Honourable mentions: Bryan Rolle, Mason Foster,

Jabaal Sheard

, Akeem Ayers and Rahim Moore