In honour of the Denver Broncos completely changing their offence to suit Tim Tebows skill set, we've decided to dedicate this week's top 5 on the best rushing quarterbacks in the NFL at the moment.
The ability of the QB as a passer isn't taken into account for this list otherwise the number one player would be an obvious answer.
Without further ado, let's move onto the list...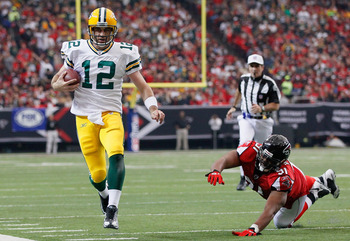 The decision for the number five choice was pretty tough with solid competition from the likes of Josh Freeman, Ben Roethlisberger and Tavaris Jackson but we ultimately settled with Aaron Rodgers.
On course for a monster year slinging the ball to all parts of the field, Rodgers running ability has been over looked during this magnificent season. When required to, Rodgers has the ability to scramble out of the pocket and has rushed for 148 yards on 43 attempts with 2 touchdowns this season.
Before someone at Green Bay decided it would be a good idea to block their franchise QB, Rodgers had to scramble more often and has rushed for over 300 plus yards in his last two years at a respectable average of 5.4 and 5.6 respectively.
With the ability to tear any defence to pieces passing wise and with the inclusion of his running ability, A-Rod is without doubt the best dual-threat quarterback in the NFL at this current moment in time (sorry Cam).