In honour of the Denver Broncos completely changing their offence to suit Tim Tebows skill set, we've decided to dedicate this week's top 5 on the best rushing quarterbacks in the NFL at the moment.
The ability of the QB as a passer isn't taken into account for this list otherwise the number one player would be an obvious answer.
Without further ado, let's move onto the list...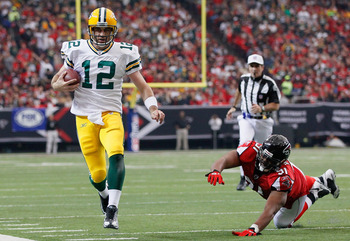 The decision for the number five choice was pretty tough with solid competition from the likes of Josh Freeman, Ben Roethlisberger and Tavaris Jackson but we ultimately settled with Aaron Rodgers.
On course for a monster year slinging the ball to all parts of the field, Rodgers running ability has been over looked during this magnificent season. When required to, Rodgers has the ability to scramble out of the pocket and has rushed for 148 yards on 43 attempts with 2 touchdowns this season.
Before someone at Green Bay decided it would be a good idea to block their franchise QB, Rodgers had to scramble more often and has rushed for over 300 plus yards in his last two years at a respectable average of 5.4 and 5.6 respectively.
With the ability to tear any defence to pieces passing wise and with the inclusion of his running ability, A-Rod is without doubt the best dual-threat quarterback in the NFL at this current moment in time (sorry Cam).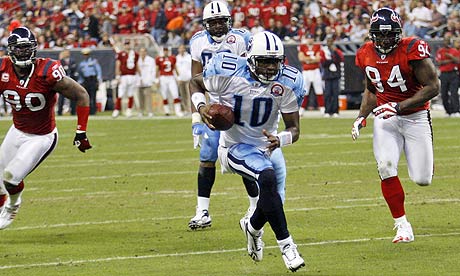 The only backup quarterback to feature on our list, VY earns his spot due to his previous achievements in the NFL.
Long before he was holding a clipboard in Philly and making stupid comments about "dream teams", Young was actually a game winner at the Tennessee Titans mainly due to his running skills, especially in his rookie season. I doubt he would've won ROTY if he wasn't a dual-threat QB.
Even though he never fully utilized his scrambling talents after his rookie season, the fact that VY had the ability to break off a big run opposing defences had to respect his skills; this allowed the Titans to exploit Chris Johnson's explosive speed to run over defences.
If I was a GM in need of a quarterback and had a dominating running back, I'd look into picking up Vince Young for his natural talent. Obviously he still needs to sort out his maturity and his PR agent needs to keep him away from the media...
He may not be your typical NFL quarterback and may have a less than spectacular throwing motion, but as a runner, there's no doubting the kids ability.
If the Broncos gave Tebow a full 16 game season using the zone read offence he mastered at the University of Florida (or just hired Urban Meyer as OC), I'd put money on Tebow rushing for 1,000 plus yards that season and would get the Broncos to the playoffs.
Obviously many analysts will say the use of this offence won't work in the NFL, but look what the Broncos did to the Raiders two weeks ago. With Tebow Averaging 6.7 yards per carry, the Broncos offence has a major boost since starting Tebow at QB and will continue to improve once he develops into a good passing quarterback. I believe in Tebow!
If I ever had the pleasure to meet Cam Newton the first thing I'd ask him is does he purposely hold onto the ball for longer on certain plays, so he can elude numerous would be tacklers and make one of the greatest plays ever seen?
Seriously if I was Newton's agent, Head coach, GM I'd take him to the side at training and point out that whilst his runs are amazing, he's the teams franchise QB and needs to calm down on the superman like plays.
Fortunately for the Panthers and their poor rushing attack, the added dimension of Newton's skill set takes the focus away from the poor play of the running backs. Newton currently has 7 rushing touchdowns which is a tie for the record with Vince Young; if Newton keeps up his current form he should break nearly every passing and rushing record for a rookie QB.
Congrats Cam, you're proving a lot of doubters wrong.
Like it was really going to be anyone else. If it wasn't for Vick's running ability he sure as hell wouldn't be the most entertaining player in the NFL (Mr. Newton may claim this crown in the near future). Let's be honest, if I didn't include Vick in this list I wouldn't have been able to show my face at any events involving American Football in this country.
Surprisingly Vick doesn't score a lot of rushing touchdowns, but his ability to run with the ball does allow him to break off a long gain to get his team into a scoring position, currently with 5,165 rushing yards in his career with an average of 7.2 yards per attempt, Vick is well on his way to being considered the greatest rushing quarterback of all time, with a season high of 1,039 in 2006.
As my fellow co-writer pointed out to me, for some reason the Eagles are trying to make Vick into the quarterback he is not, instead of designing an offence to get the most out of Vicks running ability, the Eagles are trying to make him become a pocket passer which isn't working as well as they had hoped. Maybe the Eagles should follow the Broncos actions and implement an offence where the ball is in the hands of their best player for a high number of plays.
For all of his stats and eventual records, Mike Vick will no doubt end up being remembered for his running skills compared to his passing skills.
Follow us on Facebook to stay up to date with all our latest news!