After a fantastic regular season and even better post season we're down to the final two! I went against the grain and successfully picked Baltimore to upset New England, but even I
didn't
expect the game to be that one-sided. Brady and the Pats seemed to crumble under the pressure, coming up short in key moments.
SF meanwhile fought back from a 17 point deficit to see off the Falcons, who almost let a huge comeback ruin them versus Seattle. Despite struggling to corral Jones, White and Gonzalez for most of the night, in the end the Niners had just enough poise to make it all the way to the big dance.
Read on for my extended preview (and prediction) of Super Bowl XLVII (47).
Conference Champions = 2-0

Post-Season = 9-1

Regular Season = 166-91 (65%)
The San Francisco 49ers (11-4-1)
Winner of 5 Super Bowls.

Made it all the way to the NFC Championship game last year (losing to the eventual champions).

HC Jim Harbaugh controversially gave electric young QB Colin Kaepernick the starting role over the established Alex Smith mid-season - a gamble that has paid off so far.
The Niners boast one of the most complete rosters in the league, but the unquestioned star of their imposing defence is All-Pro middle linebacker Patrick Willis. At only 27 Willis is an outstanding all-around player, but excels in obliterating opposing teams' running games. Paired with the almost as impressive Navarro Bowman they make for the best inside duo in the league.

Willis finished 2012 with 120 tackles, 2 FF, 2 picks and a cemented reputation as the best in the business.
Best Performance:
GB 31 - SF 45 (Divisional Round)

Tough to say in a season filled with many great wins, but their Divisional demolition of the Packers certainly has as a good a shout as any. I've gone for this game rather than one of the many more lopsided results because of the quality of the opposition they made look so average. This was also the game Kaepernick exploded into the rushing record books, proving Harbaugh's decision was the correct one.
Worst Performance:
SF 3 - 26 NYG (Week 6)

Undoubtedly the home loss to their nemesis the Giants. Alex Smith was picked off 3 times with no TDs and Gore managed just 36 yards on the ground. Bradshaw ran for 116 against them and Manning was able to control the game throwing for 193 yards with 1 TD and 0 interceptions. The Niners struggled on both sides of the ball and must be glad NY failed to make the play-offs this year or it could well have been another upset (although Kaepernick could well have been the x-factor that levelled matters in a replay).
Reasons to root for the Niners:
It would be very cool to have the defending champs playing in London this Autumn (even if they will be playing the Jags).

They've been the more consistent of the two teams all year, so if you value fairness then you'll think they deserve the title.

They were very unlucky not to be in this position last year!
Why I would like them to win:

Personally, I'd love to see Harbaugh's choice of QB given the ultimate vindication, along with giving the definitive proof to the league that a read option offence can work at the highest level. I love seeing the old guard embarrassed and innovation rewarded, and a Kaepernick led Niners win would be the catalyst for a new age of thinking (and quarter-backing) in the NFL.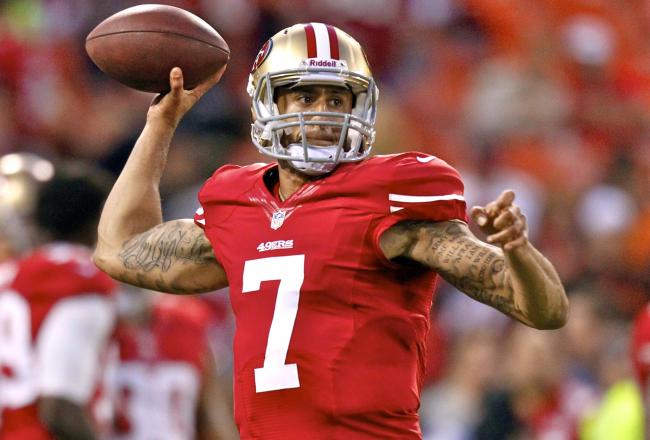 The Baltimore Ravens (10-6)
Key Facts:
1 Super Bowl ring in their short history (existing since 1996).

Narrowly lost in the AFC Championship game last year to New England.

Iconic MLB Ray Lewis announced his plans to retire this year at the start of the play-offs.
Best Player:

Very tough to say. As great as legends like Ray Lewis and Ed Reed are, I think they've lost one step too many to still be considered the most important pieces on their team (at least in an on the field sense). The Ravens coped without the ever impressive Suggs early on in the year, but he is a vital component to their defence, as is beastly DT Haloti Ngata. Flacco too is doing a great job of dispelling his critics, but they would also struggle without deep threat WR Torrey Smith and veteran Anquan Boldin (not to mention emerging TE Pitta).

Despite all their stars I think that their most talented individual is still RB Ray Rice. Even whilst being underutilised at times, and not enjoying his most prolific year, he remains one of the best in the league at what he does. Their running threat allows their passing game to operate as effectively as it has been doing, and whilst you could make a case for half a dozen individuals he is as vital as they come - were it not for his 4th and 29 magic versus San Diego they might not be in this position now.
Ray finished with 1,143 rushing yards this season, along with 9 TDs and a 4.4 average. Fumbles do remain a concern in critical situations, but his threat as a receiving option is another string to his bow - there aren't many backs in the league as dangerous in both the running and passing game.
Best Performance:
NE 13 - Bal 28 (Conference Round)

You don't have to look very far back for their best win of the year. To go into Foxborough in January and dominate the 2nd half the way they did is nothing short of jaw-dropping. Flacco was at his best, going 21-36 for 240 yards, 3 TDs and 0 picks. Various Patriot miscues made things easier than they should have been, but it remained an outstanding performance on both sides of the ball. They had bigger wins this year according to the scoreboard, but none were more impressive in such a difficult situation.
Worst Performance:
Hou 43 - Bal 13 (Week 7)

Marking a definite low point in their season, this blow-out by the Texans was as ugly as it looks. They struggled offensively throughout whilst their defence made Schaub look far better than he is. If you had told me the Ravens would be playing in the Super Bowl after this performance I would have had you sectioned.
Reason to Root for the Ravens:
Ray Lewis! Even those who aren't Baltimore fans have to respect the dedication, leadership and commitment shown over his storied 17 year career. It would be an impressive spectacle to see him finish a world champion.

Like the Niners, they were very unlucky not to make the Super Bowl last year.

It would be fitting for Ed Reed to get a ring before he hangs up his cleats - the Ravens definitely have a worse chance of being back in this position in the next few seasons, so their window is closing faster than SF's.
Why I would like them to win:

I always like to see the AFC proving they are the stronger conference, and I feel like they should be rewarded for their tougher run to get to this stage. You can't ignore how big this win would be for Lewis and Reed - although the hype surrounding their charismatic leader is getting slightly nauseating at this point. It would also be good to see Flacco prove his haters wrong even if it meant we would have to live with all the 'elite' talk for another 12 months. I'd love to see young WR Torrey Smith win a ring in honour of his brother, who passed away in a road traffic accident earlier in the season - following which Smith put on one of the best games of his career.
Who has the edge?
Passing:
Flacco has been incredibly efficient over the last two weeks, and despite Kaepernick's promise I have to side with Joe. The pass protection on both sides is top flight.
Ravens
Receiving:
Vernon Davis is an absolute stud at the TE slot, but Pitta (whilst less explosive) is a very solid option. Receiving wise nobody can match Torrey Smith for a deep threat, and Boldin is a very solid second WR. Crabtree and Moss can hold their own but again I'm going to side (marginally) with Baltimore.
Ravens
Rushing:
Frank Gore and LaMichael James versus Ray Rice and Bernard Pierce is a fairly evenly weighted affair. Both teams also have solid offensive lines but Kaepernick's ability to use his feet gives SF a clear edge.
49ers
Pass Rush:
Suggs provides the Ravens an outstanding option for getting after the QB, but on the SF side Aldon Smith has had an extremely impressive year. I think the edge has to go to SF, especially as Kaepernick is a more agile target to pin down than Flacco.
49ers
Coverage:
Whilst both sides rely on their safeties to shoulder a lot of the coverage burden, the Niners just looked very suspect versus Atlanta's (albeit impressive) aerial assault. I think the Ravens have a slight edge after making Brady look so pedestrian, even if they have been missing #1 CB Webb for the majority of the season.
Ravens
Run
Defence:
Even with Ray Lewis patrolling the middle for one last game, the combination of Willis and Bowman playing over D-line beasts like Justin Smith is what SF hang their hat on.
49ers
Special Teams:
Jacoby Jones returning kicks for the Ravens is always a dangerous prospect, and what with how suspect David Akers has looked this year I have to give this one to Baltimore.
Ravens
Overall:
Ravens by a special teams slither. Don't be shocked if this game comes down to a missed Akers field goal!
Safe Bets:

- Colin Kaepernick to get > 50 rushing yards. The over / under should be around this mark, and the Ravens haven't faced many dual threat QBs this year. Look for him to shine on the biggest stage.

- Anquan Boldin to score at any point. Known as one of the toughest WRs in the league, he's really come into his own in recent weeks. No stranger to the Super Bowl (he played for the Cardinals during their loss to Pittsburgh), he should cap his great performance against New England with another score here.

- Ravens to kick a longer field goal than the Niners. I doubt SF will have much faith to attempt a lengthy shot unless absolutely desperate (and even then Akers will probably miss it).


Long Shot:

- Super Bowl MVP to go to Ray Lewis. It's traditionally been a QB shoe in recently, but without any of the darling QBs of the league competing that could change here. A Ravens win with a pick or FF from Ray could be just enough to snag him the emotional vote, especially if the offences struggle.

- Game to go to overtime. Who doesn't want to see some extra action before the long drought of the off-season?


Key Stat:

I could just say a few clichés about how turnovers will be key, but that's true in every game. What makes this Super Bowl different is the lack of a truly big name QB taking part. In the passing league the NFL has become it's refreshing to see two teams that don't necessarily throw it a majority of downs taking part. The Niners have so many tools in their offence (not to mention a superior defence) that they don't necessarily need Kaepernick to have a monster performance to win. I think the telling statistic will be Flacco's QBR - if he struggles the Ravens will too, he needs to maintain his excellent form to give them the best chance of victory.
Pick:

This is truly one of the toughest calls I've had to make all year, but that's the way it should be. As much as I can see either side edging this game, the Ravens are riding an emotional high right now and have all the momentum. When two brothers fight it's usually the older sibling who comes out on top - if Baltimore can keep the game close into the 4th quarter I think they have a very strong chance.

The Baltimore Ravens