Now we have reached the true halfway point of the season (week 8 featured several teams that hadn't played 8 games due to bye weeks) it's time to look at a few of the contenders for the offensive and defensive rookie of the year contenders.
Offence
There aren't too many candidates for offensive rookie of the year this season as the field has been thinned by injuries to potential contenders (the missing men being messirs Ingram, Jones and Leshoure). There are also a few candidates whos seasons have only just started and look to be having an impact already.
However the three that make up the main pack chasing the title are all in the midst of some of the strongest rookie seasons seen.
Cam Newton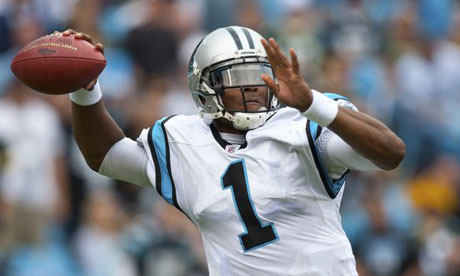 I have to admit when he was first drafted I immediately thought that he would be a bust and crumble. Not Jamarcus Russell style bust, just a bad #1 overall pick.
Since his first competitive start in an NFL jersey he has put up Madden style numbers (2393 yards, 11 TD's through the air, 319yds and 7 TD's on the ground) that have seen him throw for more yards than and aided by a cast of stars including born again receiver Steve Smith, Cam looks locked in for the ROTY award.
Could do with cutting out the interceptions, but when you are carrying a team on your back single handed you are bound to force the ball every now and then and he has given Carolina fans a feeling they haven't had in a while. Hope.
Andy Dalton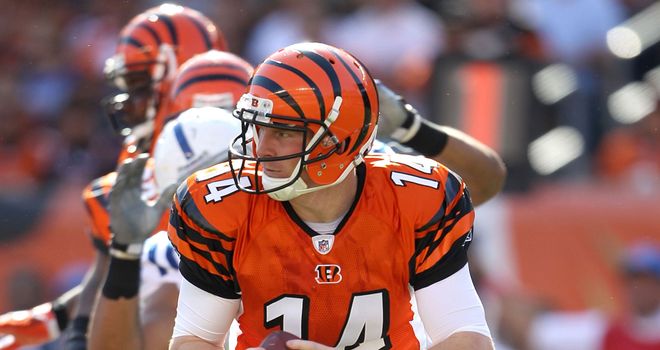 Is there another QB alive more suitable to playing in garish Orange?
Any other season and the Red Rifle (originality not a strong point in Cincinnati) would be a frontrunner for the OROTY at least. Dalton has had an incredibly solid year throwing for 1479 yards on 218 attempts and 9 touchdowns.
Has had issues with throwing the odd interception (has 7 on the year) and has more wins (five) than Philip Rivers, Mike Vick, Tony Romo, Jay Cutler, Matt Ryan and Josh Freeman leading a once laughing stock Bengals to believe they could fight for the playoffs.
AJ Green
The first receiver off the board has justified the Bengals faith and shown what a good pick they made snagging 33 balls for 516yds and 5TDs.
Has elite physical tools, but has shown he has trouble running clean routes and has also struggled stuffing an NFL playbook into his brain in the shortened offseason (checkout his Sound FX clip with Dalton telling him where to line up).
Completely outshone the other receivers taken in the draft (including Julio Jones and his massive trade) and a talent that will definitely keep the Bengals challenging in the AFC
Nearly Men:
Julio Jones: Showed promise before the injury and suffered due to general low output from the Falcons offence, but still hasn't had the impact the Falcons would have hoped. Needs to score more TD's after his strong performance vs the Colts.
Christian Ponder: Has only just got his first few starts under his belt and the FSU alum has shown a ton of promise. Could push his way into contention if teams keep stacking the box to stop Adrian Peterson.
Demarco Murray: Similar to Ponder, his season has only really just got started, but the rookie from Oklahoma has shown tough running between the tackles and has given the Cowboys the feature back they wanted in Felix Jones. Also smashed the Cowboys single game rushing record (previously held by Emmit Smith) in his first start.
Honourable mentions: Titus Young, Gabe Carimi, Jason Kelce, Jonathan Baldwin and Mark Ingram