After the Northern conference dominated our power rankings this week, I decided to dedicate this week's top 5 on our beloved BUAFL conferences.
These rankings are based on this the combination of this year's performance, as well as including
Firstly there's the one conference that didn't make it into our rankings, everyone not associated with the conference will agree with the decision but the players/coaches who are involved in the conference will think it's the wrong decision.
The conference that misses out on our top 5 is...the Borders conference.
Yes the Borders conference has teams that look like they are dominating, but when you play a weaker university three times a year it's no wonder they continually post big scores.
Until this conference divides or starts to have more competitive schedules, the Borders conference will continue to get shown little respect from the Dbl Coverage crew (sorry guys!).
5. SWAC
Photo Courtesy of Ian Goode
If this top 5 was released at the end of the BUAFL season last year the SWAC would be much higher. Unfortunately the SWAC seem to be under performing compared to what we saw last year.
I'm not sure whether defences in the SWAC have really stepped up or there are a lot of bad offences being used in this conference, but when Bath Spa Bulldogs are you're highest scoring team with 46, you know the power house uni's may be starting to lose their status as top dogs in the south west.
With no team yet to establish themselves, the battle for top spot is up for grabs and everyone has a chance of taking the crown.
Dbl Coverage prediction: (Championship playoffs) Cardiff and UWE (Challenge Trophy Playoffs) Barracuda and the winner of the Bath – Bath Spa matchup.
4. SEC
Photo Courtesy of Gary Neesam
Let's be honest, if you removed Hertfordshire and Kent from this conference then it would be pretty poor, in fact it would be a very poor decision with the quality of the teams left. Yes I know Greenwich had an amazing unbeaten season in 2009 ending with the plate trophy but what have they done since then?
I think the biggest problem for the SEC is that there seems to be numerous first or second year teams in the conference who've yet to establish themselves in BUAFL. Once they develop into good teams with plenty of depth this conference could rise again.
With the battle for the top two places all but over (Essex are hanging in there), all of the other teams now have to try and beat each other to earn the number 3 and 4 seeds in the league.
Dbl Coverage Prediction: (Championship Playoffs) Herts and Kent (Challenge Trophy Playoffs) Essex and Greenwich.
3. Northern
Photo Courtesy of carnegieamericanfootball.com
Well I bet this choice surprised quite a few people! These people are also the ones who say "teams up north can't play football". Other teams from within the conference are stepping up to try and take the honour of being the best northern team away from the powerhouse Hallam Warriors.
7 of the 13 teams from the conference are sitting with a winning record, which may lead to the northern conference ending up having some of the best teams in the country missing out on a playoff spot (it really would be a shame if Bangor missed out on post season football).
The best part about this conference though? There are teams that no one would expect to do well balling out. I know I didn't expect Bangor, MMU or Sabres to be challenging for playoff places after week 3! From now on every game will have a major affect on the final standings of this conference.
Dbl Coverage Playoff Prediction: (Championship Playoffs) Hallam and Hull (Challenge Trophy Playoffs) Carnegie and Muddogs.
2. TVC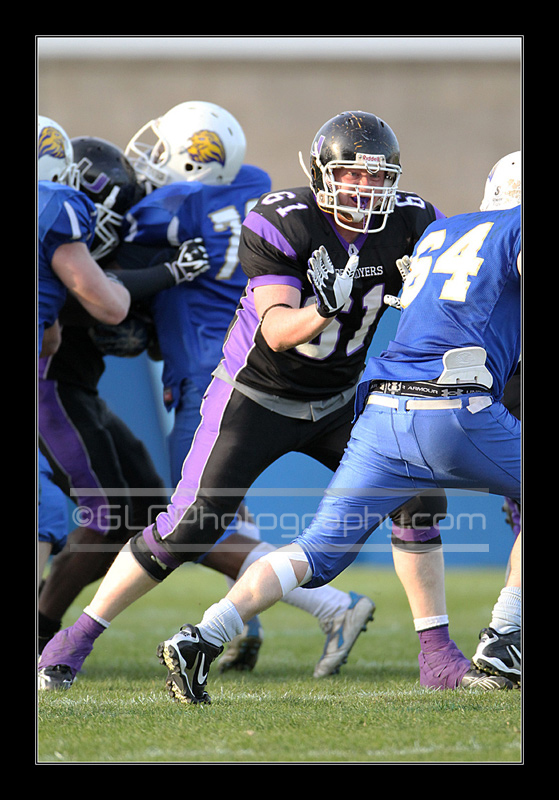 Photo Courtesy of Gary Neesam
If this was a ranking for the most hated conference in BUAFL then the TVC would win by a country mile, the majority of teams from this conference might not be liked around the country (especially Portsmouth) but when they keep on winning I don't think they will care that much.
Having four unbeaten teams in the conference seems to be the norm in every conference, but the four unbeatens in the TVC are dominating very good opposition, most notably the Stags victory over the Brunel Burners (who lost even though their banned Head Coach still turned up).
With a huge matchup this week pitting Imperial vs. Portsmouth we'll see if the Immortals can upset the apple cart and jump up in our power rankings. (Just so you know, it won't be to number 1 like you want...that's right, we saw your Facebook page).
Dbl Coverage Playoff Prediction: (Championship Playoffs) Portsmouth and Southampton (Challenge Trophy Playoffs) Imperial and OBU.
1. MAC
Photo Courtesy of redbrickpaper.co.uk
There wasn't really much competition for the top spot in this one.
First off, congratulations Worcester you finally won something! Currently containing two teams from our top 5 power rankings, the MAC is without doubt the best conference in BUAFL. They have been represented in the National Championship three years running, with two in the 2009/2010 National Championship (Aces vs. Lions before re alignment).
It's not just the top two who are always competing for the conference crown, Derby, NTU, Outlaws and Staffs have provided a challenge in years gone by. This year we are also seeing the emergence of Northampton Nemesis although they may just be a flash in the pan due to an amazingly easy schedule.
When we get closer to the end of the season don't be surprised to see the playoff contenders from the MAC turn it up a gear so they are playing at the top level all throughout the playoffs, also don't
be surprised when the MAC has a team representing in the National Championship final again this year.
Dbl Coverage Prediction Playoff: (Championship Playoffs) Birmingham and Loughborough (Challenge Trophy Playoffs) Derby and Northampton (remember easy schedule, they should go 6-2).